The President of Turkmenistan Saparmurad Turkmenbashy:
Saparmurat Turkmenbashy is a prominent political and public figure in Turkmenistan. He was born on the 18th of February, 1940 into a worker`s family and experienced a very difficult childhood. His father was killed in the Second World War. During the 1948 earthquake in Ashkhabad he lost the remaining members of his family. He grew up in an orphanage and subsequently lived with distant relatives.
Turkmenbashy graduated as a power engineer from the Leningrad Polytechnical Institute in 1996. After working at Bezmeinskaya power station, Saparmurat Turkmenbashy became involved in his republic's public and political life, rising in the ranks of the Communist Party of Turkmenistan.
In 1985 Turkmenbashy was appointed Chairman of the Council of Ministers of the Republic. He was rewarded for his painstaking work - he was elected First Secretary of the Central Committee of the Communist Party of Turkmenistan, the highest state and party post.
On January 13, 1990 Niyazov became Chairman of the Supreme Soviet, the Supreme legislative body in the republic.
Under his leadership in October 1990 Turkmenistan became independent for the first time in its history: on October 27 Turkmenbashy became the Republic's first President, enjoying an estimated 98.3 per cent of votes. Repeat elections were held on June 21, 1992 in connection with the adoption of the Constitution of sovereign Turkmenistan, when Turkmenbashy received 99.5 per cent of votes cast.
Niyazov's resounding success has been attributed to his extensive and fruitful work in stabilizing the situation in the Republic. He has consolidated Turkmenistan's international prestige and displayed concern for the population's well - being.
One of the first resolutions to be adopted after his re - election was the Decree on the free use by the population of Turkmenistan of water, gas and electricity as of January 1993.
Turkmenbashy is the founder and president of the Association of Turkmens of the World. It unites all people of Turkmen nationality resident in different countries and promotes the revival of Turkmen culture and history.
Turkmenbashy is also Chairman of the Democratic Party of Turkmenistan.
President Turkmenbashy and the Cabinet of Ministers he heads pursue a policy of friendship and cooperation with all countries, based on the principles of respect, mutual advantage and non - interference in each other's domestic affairs.
Niyazov was awarded the Makhtumkuli International Prize for achieving the aim of Makhtumkuli, the great Turkmen poet and thinker: the establishment of an independent state of Turkmenistan.
Turkmenbashy is married; he has two children. He is interested in poetry, philosophy, history and music.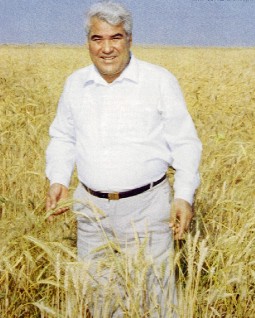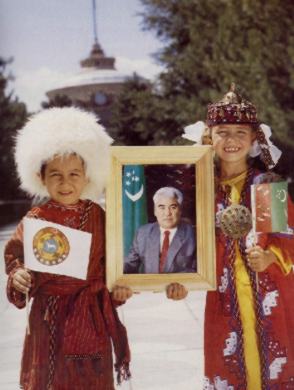 \